MUSIC
Soulful & Smooth Melodic Vocals, Driving Acoustic Guitar Grooves,
& Emotionally Charged Songwriting Fill Rhythmic & Psychological Curiosities!
DOWNLOAD
Delightfully Repeating Her message Of Love & Empowerment...
'I See You' Is A Song About "Never Giving Up." 
NEW ALBUM
DOWNLOAD 'LOVING LIGHT'
'Loving Light' (High Quality Download 'Your Price $11.99 Min')
Angelina Gargano
ANGELINA'S CD RELEASE PARTY  IS ALSO A FUNDRAISER... "A portion of the proceeds from the album 'Loving Light' by Angelina Gargano will be donated to the D'Addario Foundation's Music Education For Girls & Instrument Drive Initiatives...to help music programs in under-served communities throughout the United States. To learn more about the Foundation, visit www.daddariofoundation.org".
Read more…
close
0:00/6:30

0:00/5:41

0:00/5:36

0:00/4:39

0:00/3:30

0:00/4:15

0:00/4:00

0:00/4:12

0:00/4:15

0:00/4:21
THE STORY BEHIND 'LOVING LIGHT'
INSPIRED BY LIFE, LOVE, FAMILY, & COMMUNITY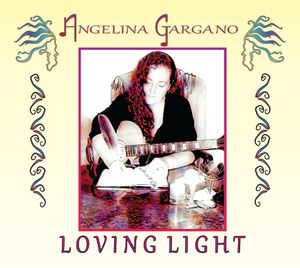 Independently building her label 'Mountain River Records' which is proudly named after her hometown Monte Rio, gave her the passion to write & produce the songs for her 1st Solo Debut Album inspired by life, love, family, & community. The official release date is June 14th, 2019. Delightfully repeating her message of love & empowerment the new album is titled 'Loving Light' in which she recorded & produced at her label. Not a typical singer/songwriter album but approached as if there was a band playing live with improvisational elements. As a singer/songwriter multi-instrumentalist, she performed & composed the vocals, acoustic & electric guitars, bass, drums, & percussion on the album.
Angelina is a versatile musician who continues to progress & reach new fans. A passionate collaborator who works with many industry professionals. She has a comprehensive background & is on a constant learning journey, branching into music licensing, crafting & recording her song catalog, runs her label & publishing, performs & creates events, networks, & is always reaching out to connect with you while trying to make a difference. "Together We're Making A Difference~One Song At A Time." With Love, Angelina

ANGELINA'S CD RELEASE IS ALSO A FUNDRAISER...
"A portion of the proceeds from the album 'Loving Light' by Angelina Gargano will be donated to the D'Addario Foundation's Music Education For Girls & Instrument Drive Initiatives...to help music programs in under-served communities throughout the United States. To learn more about the Foundation, visit Daddariofoundation.org". Thanks For All Your Support. 'Loving Light' Is Available Now At AngelinaGargano.com
RARE DOWNLOAD